Blog
Curtains
When I buy curtains, how many do I get?
All curtains are sold in pairs unless stated otherwise. Door curtains and voile panels are all sold individually.
What is Gather?
Every pair of curtains regardless of the heading will need a certain amount of gather. Without gather the curtain would just be a flat piece of material across the window. Two times the width of the pole or track is usually the recommended amount of gather. This allows the curtains to be gathered up when hung.
What is a Pencil Pleat Heading?
Pencil pleat curtains are a more pleated curtain and can bring a distinguished look to a room.
What is Pinch Pleat?
Pinch pleat curtains with a luxurious fan effect heading and elegant folds could also bring a more tailored look to formal areas.
What are Eyelets?
Eyelet curtain headings hung on a pole can bring a modern feel to a room. With wide folds able to show off both fabric and design, eyelet curtains can bring a clean and contemporary look to most settings.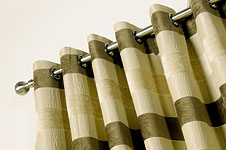 ---